Make your speakers sound even better!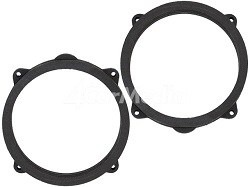 The spacer rings (commonly known as "spacers") from 4CarMedia's offer are used for mounting car speakers. They help mount the speaker basket in a stable position and give it excellent support.
The spacers we offer are made only of MDF, which, thanks to its internal structure, has excellent isolating properties.
Unlike plastic, wood is well suited to eliminating unwanted resonances and vibrations, which adversely affect the sound and are perceived as sound distortions. Using MDF elements is an easy way to get significant sound improvement.
The rings from 4CarMedia's offer are dedicated for specific car models. These products are characterized by a **perfect shape" and have mounting slots, making it easy to fit them to the mounting area.
The accessories are impregnated, which guarantees full humidity resistance; they also allow for using speakers of greater depth.
Feel free to have a look at our rich offer of spacer rings.