The comfort of using mp3 files in your car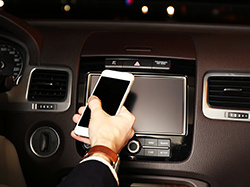 Music saved in the mp3 format is a synonym of comfort. mp3 files can be recorded on a CD and played in a car. USB port is now a standard in almost all car audio devices, and your favourite tunes can be copied to a flash drive in just a few clicks. What is more, AUX signal inputs in car audio can wirelessly cooperate with smartphones, iPhones, or iPads used as data carriers or sources of sound.
Audio-CD to mp3 conversion
Comparing to the Audio-CD format, mp3 files are compressed and can easily be managed. To convert files to the mp3 format, a wide variety of software can be used, which allows you to convert audio files from Audio-CD carriers and save them on your hard drive. The software allows you to extract all or selected tracks from your drive, and save them in MP3, AAC, OGG, WMA, or WAV format. The selected software has to be installed and started, and the Audio-CD disk has to be put in the CD-ROM. Usually, you just need to select the tracks to be converted and click an appropriate button, and the app will lead you step-by-step through the conversion process.
Improving volume level of recorded tracks
If mp3 files come from records with various volume levels, the quality of certain tracks may need to be adjusted. Dedicated software can provide the same volume level of tracks originating from different sources.
File correction is based not only on the peak values, but also on the statistical analysis of volume hearable to the human ear.
Comparison of sound quality in Audio-CD and mp3 formats
It is worth pointing out that mp3 files are based on the method of lossy compression, which means that it is impossible to reconstruct the original signal.
The file correction algorithm is based on the mathematical model of auditory perception of an average person. Generally speaking, the quality of sound in the Audio-CD format is higher than in the mp3 format. It cannot be ruled out that some people could hear the missing, cut-out sounds. This makes any evaluation of the quality of sound from an mp3 file highly subjective.
Change of the compression factor during conversion is called bitrate. This parameter may result in a quality decrease, but it would be difficult to translate it to any measurable value. The quality of recording depends not only on the compressed sound, but also on a number of other factors.
There are also converters that enable you to choose variable bitrate (VBR), which adjusts itself to the dynamics of music. For calm and undemanding parts, the bitrate is decreased, and in case of dynamic parts, it is increased. This ensures the highest possible quality without the need of increasing the size of the file. Variable bitrate is rarely used, as it seldom works as expected. The majority of lossy formats is based on the CBR parameter, i.e. constant bitrate.
---
Summary
A huge advantage of music tracks saved in the mp3 format is the easy management of your music resources. Compression is also very important, because thanks to it, you don't need to have several dozens of CDs in your car. Music files can be stored on a portable drive or a mobile phone, and the conversion can be done with the use of computer software.