Adapters for controlling from steering wheel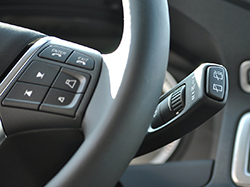 4CarMedia offers a perfect solution for those who can no longer use their steering wheel controls after replacing their stock radio.
Restoring remote control functionality:
Improves the comfort of using your radio,
Reduces the need of taking your eyes of the road, and your hands off the wheel,
which directly increases your safety.
Our product features all the necessary interfaces, and it is easy to install, as all you need to do is to connect it to the system.
The adapters in offer support all resistor ladder remotes mounted e.g. in vehicles from Ford, Opel, Suzuki, or Mitsubishi.
By decoding the remote control buttons, you can use up to 10 commands, e.g.
Volume regulation
Changing the playing track
Station seek tuning / switch
Source selection
Mute.
Cable output is compliant with the remote in standard used by radio's manufacturer.
Adapters support products from renowned manufacturers, such as: Alpine, Blaupunkt, Clarion, JVC, Kenwood, Pioneer, Sony.