What to do in order to get the best possible audio quality in a car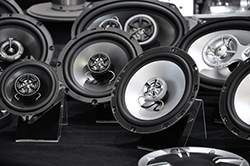 Quality of music systems factory installed in older cars was rather low, and quality of sound produced by them left much to be desired. Currently, sound amplifying systems are very often integrated with navigation systems, and audio equipment comes from leading manufacturers, such as Bose, Cabasse or Harman Kardon.
Thanks to this fact, sound quality has improved significantly and is able to satisfy demands of a wider group of listeners. There are, however, some ways to modify car audio installations and to tailor them even better to our own needs.
Transducers replacement
We can make the simplest change without investing high amount of money. We can buy relatively cheap products designed for specific car brands and models, and there is no need to alter the appearance and construction of a car. This kind of modification depends only on replacing transducers.
However, a group of demanding listeners needs more efficient and more radical solutions. In order to meet their expectations, transducers have to be replaced with more expensive ones that are characterized by better quality and are specifically designed for car audio systems. Thanks to such transducers, our favourite sounds will be played louder and their input tone will be preserved. In such a case, separated 2-way loudspeaker sets with a passive crossover, a mid-to-low-range transducer, the so-called woofer" (mounted on vehicle door), and a tweeter (mounted in the panel under the windscreen or on columns) are most commonly used.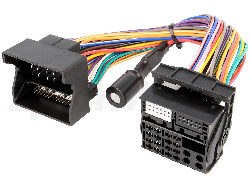 A radio set of good quality
Quality of sound coming from the source is equally important. In order to significantly improve it, a factory installed radio set should be replaced with equipment manufactured by Alpine, Clarion, Sony or JVC. The audio equipment of these brands is equipped with carefully prepared drives, CD changers, USB ports, Bluetooth technology, and, most importantly, powerful power amplifiers which allow to drive loudspeakers better without the need to use additional amplifiers.
The use of a subwoofer
In case of some genres of music, such as drum and bass, hip-hop or techno, "woofers" may not be able to cover the whole acoustic frequency range and provide appropriate listening experience. Then, it is necessary to use additional subwoofer, which, due to its size, is usually placed in a boot.
In case of estate cars or hatchbacks, whole passenger compartment is connected with a boot, so the sound from a subwoofer is easily transmitted to the interior space of a car.
But in case of a saloon car body, there may be some problems with obtaining full sound pressure level because of a rear seat which is a kind of a "barrier" for the sound that needs to be gone through. An opening for skis can be then used as a tunnel. It is also possible to install loudspeakers on a rear shelf or to use a subwoofer which can be placed under seats. In order to increase sound pressure, we can also use more powerful transducers.
Choosing a loudspeaker enclosure appropriate for car model and personal preferences
There are different types of loudspeaker enclosures on the market:
bass-reflex,
closed,
band-pass,
or enclosures that can be mounted at the side of a boot.
As you can see, we have a wide choice, and we can easily choose enclosure that would be appropriate for our car model and needs. It should be noted that bass-reflex enclosures are better for listening to drum'n'bass music (where low frequencies are required), whereas closed enclosures turn out to be good in case of rock and pop music (where speed is more important).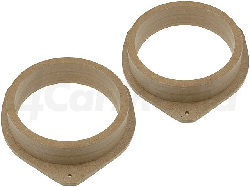 Damping at the speakers
As a standard, speakers are usually mounted in the doors, where there is no damping. Such a location does not always guarantee good sound quality that is why it is important to appropriately prepare the place for speakers. We can do this by using:
See also: How to reduce noise in your car?
2-way and 3-way systems
The most demanding listeners, for whom high sound quality is the most important, may build so-called 2-way or even 3-way system plus a subwoofer. For this purpose, radio sets with built-in or external amplifier with DSP sound processor are used.
The sound is processed in a digital domain, and a built-in, active crossover gives us a huge number of options to influence the sound. Thanks to such a solution:
we have influence on cutting off acoustic frequency range of a chosen frequency,
we are able to determine "gain" level for every speaker or group of speakers on a case-by-case basis,
we can set timing correction value in order to obtain desired soundstage (optimally, at eye level, with correctly placed phantom sources). Its aim is to make us feel as if we were taking part in a real music concert during which performers are standing in front of us on the stage.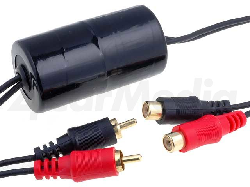 In order to build systems of this kind, multi-channel amplifiers or amplifiers for individual sections are used, which can provide larger power.
All of the wiring is replaced with a new one, from cables for amplifiers (of appropriate cross-section), through shielded signal cables, to speaker cables for a specific section.
Every element, even seemingly not important, has to be of the highest quality. This applies to all kinds of plugs, connectors and terminals.
---
Summary
A skilful extension and configuration of a car audio system let us obtain better quality of sound. However, we should remember that quality level of our system is as good as the weakest link of the system. We should think about the effect we want to achieve, and then we should get detailed information about components which let us obtain desired results and fully enjoy listening to music in the car.