Professional car audio accessories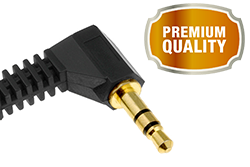 Accessories for car audio installation constitute essential elements of every audio system. Without them, it is impossible to connect main components and turn on the audio equipment.
4CarMedia offers full range of accessories, including:
perfectly fitted, gold-plated flat connectors: thanks to them it is possible to connect speakers in every audio installation seamlessly;
ring and fork connectors of a high quality: their section and thickness let you apply voltage to the receiver's power supply line without a risk of a voltage drop;
RCA-RCA, Audio-Video connection cables, Jack connectors: clear and intact signal is transmitted from the equipment or master unit to the amplifier;
RCA adapters (commonly known as "Y-adapters"): while using several amplifiers, they let distribute the signal from a single audio channel to two amplifiers easily;
HIGH to LOW signal level converter: perfect for radio sets without RCA outputs; it can be attached to a speaker output, and it is possible to independently adjust the level of output signal distributed to the amplifier;
cable braids: made of durable polyester, they prevent damage to cable harness or single signal, speaker or power cables;
noise filters: they help solve problems with ground loop on audio signal line or with interferences on power line;
fuse sockets: a proper fuse is an essential element of safe car audio installation;
High quality of the above mentioned components ensures comfort, safety and full compatibility with the equipment available on the market.
---
Parameters
30.5000-01
FILTR-25.002
JACK3.5-SK
KON-A-28

Net price from

0.0528 PLN

Type of car audio accessories
interference filter
interference filter
Application
for suppressing of disturbance before the amplifier
Parameters
TERMINAL-RING-6G
KON-QJ-63
OBS-050-R/BK
OPL.03-RD

Net price from

0.0931 PLN

Type of terminal
ring
flat
Hole for screw
M8
Wire cross-section
16mm2
1...2.5mm2
0.5mm2
Contact plating
gold-plated
Ferrule variant
insulated
with a latch
Colour
red and black
red
Kit contents

connector black x10
connector red x10

Mounting
Quantity in set/package
20pcs.
Parameters
RCA-GN/GR
RCA-HQ2.500.2
RCA-WH2.300
SBA-250A
Type of connection cable
Audio-Video
RCA - RCA
RCA - RCA
Cable/adapter structure

control
RCA plug x2
RCA plug x2 angled

Cable length
0.2m
5m
3m
Insulation colour
green
navy blue
white
---